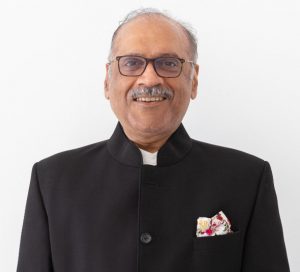 Sushil Kumar Jiwarajka
Hon. Consul General of Greece in Mumbai
Mr. Sushil Jiwarajka, a prominent industrialist, is the Chairman of Artheon Group of Companies. He is also the Chairman and Managing Director of Essjay Ericsson Pvt. Ltd, a Joint Venture with LM Ericsson of Sweden. Artheon Group has interests in Telecom, Renewable energy, industrial batteries and E-commerce.
He has promoted OMC Power Company Pvt. Ltd., which has been providing clean Power using Renewable Energy for telecom sites and rural communities. This Company has won several prestigious awards. Artheon Electronics has executed several prestigious rooftop solar projects across India on EPC basis
Some of the important Positions held by him are mentioned below:
Past Chairman –Energy Storage Committee – FICCI
Past Chairman –Sub Committee on off girds International Solar Alliance Global Task Force
President- Infrastructure & Logistics Federation of India (2013- 2019)
Chairman – FICCI-WRC (Federation of Indian Chambers of Commerce & Industry), (2000-2013)
Past President -International Chamber of Commerce- India (2010-11)
Past President -All India Organization of Employers (2006-2007)
Chairman- Indo Arab Chamber of Commerce and Industry (2005- March 2014)
Some of the key achievements listed here:
Chairman –Maharashtra State Security Council
Founder- Medical Tourism Council of Maharashtra
Led the business delegation accompanying the first ever Presidential visit to Sweden and Belarus in the year 2015
As Chairman FICCI-WRC, he pioneered several initiatives to promote Airports Modernization, neutraceuticals, technical textiles, Brand Protection, Industrial Design cluster, wine manufacturing in Nashik, entertainment sector etc.
Awards
Awarded the Global Tech Pioneer by World Economic Forum in 2014
Awarded The Economic Times Telecom Award in 2015
Recent initiatives
Building next-generation Li-Ion batteries
Constructing 10,000 toilets in rural Maharashtra
Adoption of 60 0rphaned girls and responsible for their education and marriage
He has also mentored and nurtured several startups, young entrepreneurs, who are today running successful businesses in hi-tech, clean technologies. He has been a member of several Central and State Government Committees.
He is extremely passionate about philanthropy and promotes the concept of giving back to society.
He is currently supporting several initiatives which include:
Global Parli: It's a not for profit foundation to transform India using a replicable model of rural rejuvenation
Roti Bank : Collection & distribution of surplus food to hungry and needy in Mumbai
EmpowerHer India: Women empowerment in Rural India through Sanitation (10, 000 toilets)
IDEI: Low cost innovations for small and marginal farmers
MSWC: Adopting 60 orphaned girls from Mumbai slums and responsible for their education.
Aditya Jyot Foundation for Twinkling Little Eyes (AJFTLE), is a not-for-profit body runs outreach programs in rural and urban slums and tribal areas that strive to provide quality eye care for the underprivileged.
Artison: World's largest bamboo cultivation and conversion to fiberboards project in Madhya Pradesh, India
A keen enthusiast of Indian Film music, Mr. Jiwarajka is associated with several social and cultural organizations.